She goes by @battatawada on Twitter and has been bagging all the awards at the shows for her debut in Masaan. It was also the recipient of the Best Film prize in the Un Certain Regard category at the Cannes Film Festival in 2015. Today, a short film featuring her, Koi Dekh Lega releases on the Y Films channel on YouTube. I'm talking about the extremely spirited actress, Shweta Tripathi. Incidentally, the year before I was features writer at Filmfare, Shweta did her internship at Femina. That's how a common friend introduced us on Facebook. At the time we became 'friends' online, she was helping with casting for Imtiaz Ali's Rockstar. She innocently asked me if I knew any Kashmiri looking girl and I felt really bad for not knowing one. Of course, Nargis Fakhri eventually did that role and Rockstar became one of my favourite films. Fast forward some years and Shweta is shooting for an ad film in Bangkok and I'm on a FaceTime call with her, talking about everything under the sun. It took a lot of co-ordination and lighting (Shweta was actually sitting in front of the television to catch light, so I could see her) but once we got talking, a little more than an hour just flew by.
Here's what you need to know about her: She's not changing her twitter handle from @battatawada to @ShwetaTripathi449 or something else anytime soon. She doesn't believe in losing her quirkiness to make herself easily searchable. (I love that.) She follows Robert Downey Jr. and Jim Carrey and likes to think people on Twitter follow her because she is herself even on social media. It is interesting to follow people who have opinions on things like movies or topics that interest a user.
Her twitter DP is also making me extremely nostalgic. Remember this?
She believes an actor's biggest asset is empathy. For her, the ability to empathise is the most important contribution to her acting. She recounts Nawazuddin Siddiqui (fondly calling him Nawaz bhai), her Haraamkhor co-star telling her something she'll never forget. "As actors, you're always wearing a mask. But the day you forget who you are and start believing your identity is the same as the mask, it can get very dangerous! (Golden words to live by.)
The toughest part about being an actor today is having to be a part of promotions for your film. She talks about the recent actresses' roundtable with Rajeev Masand where the featured women testified this. The best tip Shweta received was from Richa Chadda while posing for the multiple cameras at Cannes. "Don't forget to keep breathing." She remembers how Richa was an absolute champ, starting to pose at one point and gliding along to the other side, all the while maintaining posture and eye contact with the camera lenses. While everything about her Cannes experience was fabulous, this was her biggest learning, she jokes.
Of course, she has friends who are stylists who help her out during events. But she doesn't always like to call in favours. So she also styles herself some times. And directly reaches out to designers, much to their surprise. For instance, she styled herself for the Love Shots' preview and made it to highheelconfidential.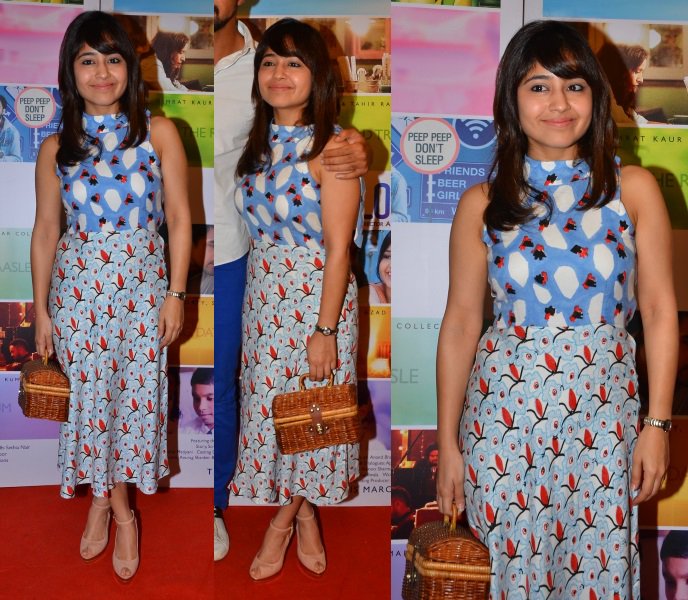 She's on the best actor jury for the Times Of India Film Awards (TOIFA), which she thinks is a huge honour and is going to be travelling to Dubai. She had some work and she called on the landline of the organisers' office. Not realising it was Shweta herself, the person on the phone asked her who she was handling, whose manager she was, basically. Shweta clarified that it was Shweta Tripathi and she manages herself. The person on the phone burst with excitement and claimed of course, she knew her! That was a real moment of pleasure for Shweta, who thinks these small things make the effort worth it. In a recent interview I did with Shanoo Sharma, Shanoo said that she often goes to parties where people she doesn't know address her by name but forget to introduce themselves. Obviously, she doesn't know everybody and doesn't expect the opposite person to know her at all times either. I asked Shweta what she felt about this predicament. Shweta said she was at a Titli preview screening and Varun Dhawan was there. He walked up to her and introduced himself as Varun, even though, she obviously knew him and it was genuinely a modest introduction. She thought that was very cool. What topped that was when Ranveer Singh, (who's rocking the nation right now with this energy, methinks) also very humbly introduced himself to her.
Recently, she was hanging with a friend and she answered a call from an unknown number. When the caller introduced himself, Shweta couldn't believe it. She thought it was definitely a prank one of her friends was playing on her. When she realised it was actually the person he said he was, she was shaking. It was a director she hugely admires and he had called to congratulate her for her work in Masaan. These are the highs of her job that keep her going. So, I ask her if she was ever a fan of an artist when she was younger and took autographs. She laughs and recounts an experience that might be embarrassing to admit. But she goes ahead anyway. (And that is why I love this girl some more.) She was travelling with her family outside of Delhi and she spotted Vivek Mushran. She flipped with joy and insisted on taking a photograph with the actor. Somebody had to go back home, get a camera, in those non-cellphone days, and click Shweta with Vivek. Of course, autographs are next to extinct nowadays. She was in an elevator once and still playing Zenia on Kya Mast Hai Life on Disney channel at the time. A teenage girl came up to her, really close, and took a selfie with her. That was the first time a fan had taken a selfie with Shweta and Shweta's friend, who was with her, was very impressed. Shweta was amused but comments on how fans are so interested in taking a selfie, they forget to ask the actors how they are doing even. (We both laugh and lament about this.)
I tell her Masaan was the film that really broke my heart and I came home and bawled after watching the film. In the spirit of disclosure, I even tell her that seeing my ex at the screening might have acted as a trigger. I ask her if there is a film that she wasn't a part of her had a similar effect on her. She confesses that she is a very emotional person. And she cries in a film like Casper too. But recently, she howled while watching Neerja. She was a non-stop stream of tears and to modify a quote about Masaan (it being a lovers' nightmare on screen), she felt Neerja was every mother's nightmare on screen. Even Room had her in tears. But the film that broke her was Revolutionary Road, which she recently got down to watching. She felt like someone had put their hands in her stomach and wrenched her guts out. That a film can push a button somewhere in you is its biggest merit. So, I end this absolutely fun-tastic conversation with a clichéd question. What is the best thing about being an actor? She says it's the fact that she gets to live so many lives. And even though everyone is always trying to find themselves, as an actor, she gets to feel what nobody feels and hopefully, in the process, come closer to finding herself.